Fortenberry Forefathers
Welcome to the Fortenberry Family website. It was created for all Fortenberrys and Fortenberry lovers to meet and share our history. We are descendants of James Leith Fortenberry born about 1755, probably in Anson County, North Carolina, but our group consists mostly of people who come from the four sons of Sloan Fortenberry. We affectionately refer to them as "The Four Brothers".
The Four Brothers
Check out our old photos, our really old photos, or some more recent photos on Facebook.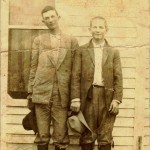 People
This Section is not finished but we hope to have it up soon.
Historical Documents is what makes it possible for us to track our ancestry into the past and preserve it for the future. Take a look at all the documents we have gathered so far. Also, if you have any documents that we could post on the site submit them by clicking below.
Submit your Documents
Interesting and entertaining stories about Fortenberrys from past and present. Submit stories you know so that we can record them for everyone to enjoy.
Submit your Stories
Jack and I have begun meeting with family members to scan and preserve their photos.  Items, such as, clothing, dishes, etc. can be photographed and added, also.  Much of that info is in attics, closets, boxes and photo albums in our homes.  As we put these things on the website, we can all enjoy a more complete family history and get to know each other better.
Check out these Fortenberry Facebook groups
When you find a photo or a special document, please call or email me at:
Cyn Fortenberry Hall
940-206-5509
cynhall@hotmail.com